When it comes to running a successful e-commerce website, it's important to offer alternative payment methods for your customers, beyond traditional credit or debit card payment processing. At Starkmedia, we have a team of experts ready to help you learn more about alternative payment methods, the benefits they can offer you, and how to integrate them into your website. 
Offering alternative payment methods to customers is a great way to increase your sales because your prospective customers may already have accounts with some or all of the providers, which means their personal, shipping, and payment information will already be securely stored. These methods also use one-click checkout which implies a fast and secure transaction, which will reduce cart abandonment. By providing alternative payment methods that have recognizable logos and payment buttons, you can give your customers the confidence they need to convert. Today's leading payment methods that you should consider adding to your e-commerce checkout include:
PayPal

: PayPal is perhaps the most recognized payment method with more than 295 million PayPal customers around the world. PayPal offers different levels depending on what your business needs and the types of products that you sell. 

Apple Pay

: With Apple Pay, your customers can simplify their transactions and check out with a single touch. Apple Pay is more secure than traditional credit, debit, and prepaid cards because every transaction on your customer's iPhone or iPad requires Face ID, Touch ID, or a passcode.

Amazon Pay

: With Amazon Pay, you can offer your customers a secure payment platform that they recognize and trust. Your customers can use the payment methods that are already stored in their Amazon accounts to pay for products on your online store. 

Google Pay

: By integrating Google Pay, your e-commerce site can offer customers a safe and secure way to check out online by using the information that is already saved in their Google Accounts.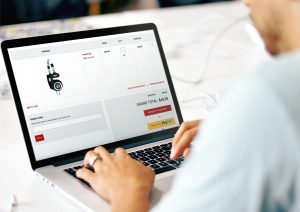 At Starkmedia, our team has years of experience integrating alternative payment methods into e-commerce sites, including platforms such as Magento, WooCommerce, and Shopify. We can help you choose a payment method that is supported by your e-commerce platform and integrate it into your website, which will lead to increased sales for your business. Our team will walk you through your options and help you decide what is right for your business and customers.
If you'd like to learn more about integrating an alternative payment method into your e-commerce website, contact Starkmedia today. We're happy to answer any questions you may have and help you get started.