With 18 theaters in eight states under the brands The Grand Theatre and AmStar Cinemas, New Orleans-based VSS-Southern Theatres, LLC engaged their ongoing partner Starkmedia to redesign and develop their brand sites onto the Drupal CMS as well as integrate with Vista, a third-party platform, to deliver showtime, ticketing, and enhanced loyalty rewards program functionality.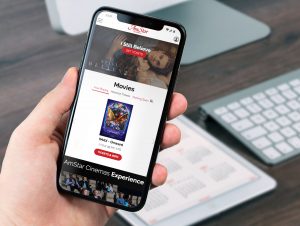 By replatforming to the Drupal content management system, our team was able to deliver an improved authoring experience to manage and deliver location-specific movie, showtime, and menu details. An updated responsive design delivers a best-in-class user experience to a largely mobile audience. 
The flexibility of Drupal allowed our team to integrate with the Vista Cinema platform to display showtime and ticketing information in sync with their onsite and mobile application inventory. Drupal streamlined their team's ability to manage information as it pertained to each location, enabling a personalized experience based on a visitor's detected location and nearest theater. 
By integrating their Vista-based Reel Rewards loyalty program into the brand website, customers can access available rewards to track progress and use points towards ticket purchases under one seamless, logged account. Our team also added the ability to purchase gift cards online and check their balances as well as purchase bulk tickets and verify ticket purchase directly through the website.
The redesigned sites for The Grand Theatre and AmStar Cinemas deliver an updated look and improved functionality for all users. Starkmedia is proud to present the new sites for The Grand Theatre and AmStar Cinemas.
https://www.amstarcinemas.com/ 
If you are interested in improving your online presence, contact Starkmedia today. We have a team of professional programmers and designers ready to help move your brand forward with a new website.