Starkmedia recently worked with Nicolet College in Rhinelander, Wisconsin to develop a marketing automation campaign specifically targeting adult learners. Starkmedia recommended using Pardot with the existing Salesforce platform used by the college. Due to an aging population in the college's geographic area, it seemed imperative to target the 25-30-year-old population to get them re-engaged with college programs.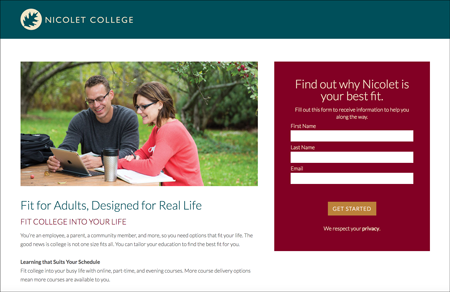 This campaign was designed to target adult learners as prospective students by addressing key roadblocks for going back to college. The roadblocks were identified as time, cost and return on investment (ROI). Pardot landing pages were used to engage prospects with generalized messaging including earning potential and prospective employment.
Upon submission of a simple form, the lead was assigned to an Admissions user in Salesforce and placed in the engagement program. The prospective student then received an email with links to three videos that addressed the three main roadblocks to enrollment. When a video link was clicked the lead profile was appended and the subsequent email content changed to address the identified concern. Admissions were also notified so they could follow up directly via phone or in-person meeting.
"The system gathered over
4,400 visitors
and nurtured over
830 student prospects
in one campaign cycle."
The automated marketing campaigns using Salesforce Pardot was successful for  Nicolet College. The system gathered over 4,400 visitors and engaged over 830 student prospects in one campaign cycle. This success leads to increased inquiries and applications to post-secondary programs.
We are proud to have partnered with Nicolet College and their team to facilitate automated marketing. To learn more about how Starkmedia can implement an automated marketing campaign for your business as well as maximize your use of Salesforce and Pardot, contact us today!