Officially founded in 1983, the East Town Association has greatly improved the health of the neighborhoods and business communities in Milwaukee. With over 200 businesses involved, the East Town Association has cultivated a vibrant community experience through their unique and engaging events.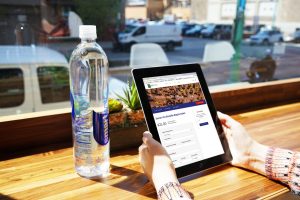 Starkmedia was able to provide assistance to East Town's events by helping to expand their digital offerings and improve the efficiency of online registration. Using Shopify as the base platform, our programming and design teams were able to modify the structure to create a custom sub-domain site for their events. Our team created an all-new microsite giving East Town the capability to receive online registrations, accept online donations, and integrate a merchandise store.
Other features of the new microsite include:
Integrated Payment Methods

Automated Inventory Control

Upsell products and donations during the registration process

Event Ticketing
As a result of the new microsite, the East Town Association was able to gain the ability to collect and monitor finances online, accommodate large numbers of members, and systemize the entire event process. Two upcoming events, the Storm the Bastille Run and Bastille Days Wine Tasting, carry color schemes and navigation specific to the Bastille Days event.
Starkmedia was able to streamline the process to register for an event, organize groups, purchase merchandise, and monitor the event all in one place. Linked to the East Town parent website, the new microsite has also helped drive more traffic to the events by improving the customer experience and user interface.
The value of being able to draw people to an event will never diminish. Our team can help people find your events and ultimately move your brand forward. If you are interested in learning more about how Starkmedia can improve the efficiency of your online presence, contact us today!
For more about East Town Association, visit the link here: events.easttown.com