Google My Business (GMB) is a great, free way to drive traffic to your local business—if you are utilizing all the features provided. With GMB, you can engage with customers and keep them updated and informed.  
Today, we would like to discuss creating posts on GMB and the value they can provide your business by sharing what's new at your store. By posting regular updates and offers to your Business Profile, you can draw in current and potential customers.  
Custom GMB posts can be created directly from your phone, tablet, or computer. The posts you create appear directly in your Business Profile in Google Search and Maps for seven days before expiring.
When writing a post, you are given several options: upload an image, write text (up to 300 words) or add an event title (with start and end dates and times). You can also add call-to-action buttons including "Learn more," "Reserve," "Sign up," "Buy" or "Get offer" which can link back to your website.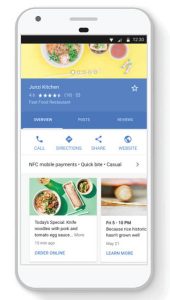 By posting through GMB, you have a great opportunity to:
Announce new promotions or daily specials.

Promote new and upcoming events.

Highlight some of your newest products or best-sellers.

Take reservations, attract signups for a newsletter,

or sell a product directly.
With regular posts to your Business Profile, you can draw in new customers and entice repeat customers with updates on what's happening at your store. And with the GMB dashboard, you can review insights about your posts to see what your customers are interacting with.
If you're looking to capture current and potential customers' attention, contact us today and we can help you optimize your Google Business Profile.