Kentico Technology is an all-in-one CMS, E-Commerce, and Online Marketing platform that allows you to create cutting-edge websites and fully optimize your digital customers' experiences across multiple channels. Most importantly, Kentico saves you time and resources so you can accomplish more.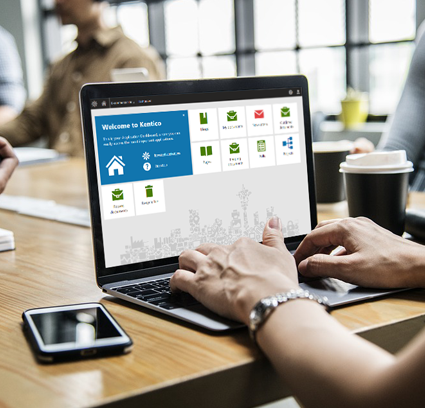 With more unique functionality than other vendors, Kentico's .NET Web Content Management (WCM) solution leverages features such as ready-to-use web parts, widgets, multiple language support, mobile previews, and device detection. Kentico's E-commerce solution gives you the power to sell globally for greater customer loyalty. Integration with third-party ERPs, CRMs, payment gateways, and an efficient checkout process give you the flexibility to help your website grow. Fully integrated with the Content Management System, Kentico's Online Marketing solution offers Email Marketing, Lead Scoring, and Marketing Automation, and optimize your campaigns to nurture prospects into customers and increase brand advocacy.
The full list of Kentico features include:
Web Content Management
Kentico's content management solution allows you to deliver a consistent customer experience across multiple channels and devices. Integrated with almost any back-end system, this solution not only provides you with the time and flexibility to accomplish your goals but also the resources to make it happen.
Online Marketing
Kentico's Online Marketing solution gives you fully integrated insights of your customers' interests in your products which allows you to personalize every customer experience. This solution also includes Web Analytics, Lead Scoring, and Marketing Automation so you can nurture leads as well as analyze and optimize your campaigns to assure you deliver the right message to the right person at the right time.
eCommerce
Kentico's E-commerce solution allows you to keep the site navigation design as well as the structure of your online stores. With simple integration of external systems, easy money management, and support for multiple languages and currencies makes creating a consistent online retail presence effortless.
Online Communities
Kentico Online Communities solution provides you with the essentials you need to create, manage, and integrate communities socially in order to drive traffic, acquire customer insights, and encourage conversations about your brand. With unique support for Forums, Blogs, and Groups, Kentico helps you generate active communities for even greater brand loyalty.
Intranet Collaboration
Kentico's Intranet and Collaboration solution delivers empowering workgroups and project teams. Utilizing Project Management, seamless SharePoint Integration, advanced workgroup collaboration, and customizable department-specific pages, Kentico helps make your business run more efficiently
Platform Integration
Kentico's Platform Integration solution offers efficient functionality, extensive features, and customizability to create a website in no time. Integrating Open API, Kentico's ASP.NET CMS works well with nearly any back-end system in order to provide you with a productive and powerful website.
These combined features create opportunities to help your business grow tremendously. By utilizing this unified technology, your company can capitalize on all of your strengths at once when incorporating the CMS, eCommerce, and Marketing Automation at the same time.
To learn more about Kentico and how Starkmedia can help get you started, contact us today and move your brand forward!