Over its 120 year existence, the Cleco brand has become a global leader in manufacturing assembly solutions including DC electric and pneumatic assembly tools, and pneumatic power motors. Starkmedia partnered with Apex Tool Group, one of the largest manufacturers of professional hand and power tools in the world, to provide strategic, design and development services during the brand consolidation of their Power Tools division.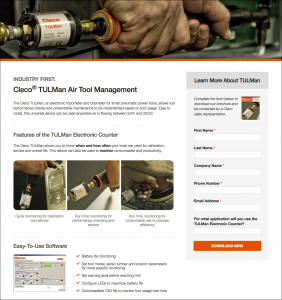 In an effort to educate prospective customers and generate new leads, Cleco Power Tools engaged Starkmedia to integrate campaign pages on their Drupal marketing website with their Salesforce instance to streamline the capture and distribution of form submissions. To facilitate the launch of a new product line, the innovative TULMan electronic counter for pneumatic tools, Cleco needed to generate interest and inform their audience of this new solution while enabling prospects to request more information.
Many of our additions to the site include:
Designing and programming flexible page solutions

Driving traffic 

through a national paid search campaign

Integrating lead Forms linked through Salesforce.com

Delivering automated messaging

Assigning sales users through CRM criteria
The new campaign pages offered solutions for a more successful ROI from their customers. Cleco Tools is now able to utilize their new site additions to not only expand their traffic flow capabilities but also to reach out to their leads in a more efficient and effective manner.
If you are interested in learning more about how we can help move your brand forward, contact us today!