Started in 1951, World Dryer has specialized in creating innovative and advanced air dryers to optimize any bathroom space. Their goal is always to find ways to improve the user experience by developing dryers that are quieter, faster, more sanitary, more efficient, and at the lowest cost of ownership.
With a mission to find solutions to their customers' challenges and insights without compromising the pillars of safety, sanitation, performance and compliance, they came to Starkmedia for help.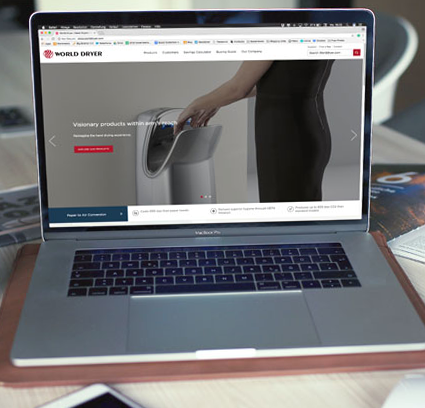 The main features of the new site include:
Kentico 11 CMS
Market Track
Buying Guide
Sales Calculator
BIM File Archives
Improved User Experience
B2B Customer-Focused
Focused on the paper-to-air conversion value proposition, we customized all of the layouts and features of the new site to accommodate that mission. For those reasons, we chose to use Kentico 11 as the Content Management System to construct the foundation of the site. After the site was built, we began to integrate some helpful systems including Market Track, Savings Calculators, and Buying Guides.
Market Track was used to link each product to a potential vendor and inform the customer of whether or not the product was in stock. In addition to Market Track, a Buying Guide was created to funnel sales prospects to the exact dryer that they may be looking for based on simple and informative questions. Once the product is chosen, the customer can use the Savings Calculator to determine the annual cost of using the product in contrast to traditional paper towel expenses. These integrations greatly improved upon the user experience by offering customized features for their client base.
Since World Dryer primarily conducts business with business owners, architects, contractors, and distributors, their new website includes various archives of BIM files that benefit the customer in their endeavors moving forward. Essentially, we constructed the site with the customer in mind by directing them through the Buying Guide, to the product features, into the savings calculator, and finally to national distributors within minutes!
Overall, the new site not only offers a wide variety of high-quality product selections but also a vast amount of resources for the customers. From integrations to easy navigation, the new World Dryer site has improved efficiency and functionality to better serve their buyers.
If you are interested in learning more about how Starkmedia can help you grow your brand with a stunning new website and brilliant integrations, contact us today!