Starkmedia is proud to partner with Republic Paperboard Company LLC, who uses 100% recycled raw materials to produce high quality paper products that are used in the manufacture of gypsum wallboard, shopping bags, boxes, tubes and other industrial and consumer products. 
Republic Paperboard selected Starkmedia when they were looking to redesign their new website. The goal of the new website was to showcase more of their products throughout the website while having a responsive design that was easy for customers to navigate through as well as a functional CMS that was easy to update the website using Drupal 9.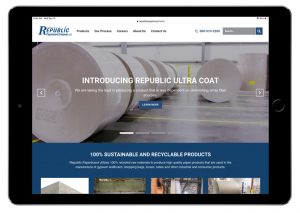 Some key features that the website displays is showcasing the products on a robust home page, easy to edit content blocks used in the CMS tool, introduction of more extended product detail pages and strong photography displayed throughout the site. Overall, a strong engagement between Republic Paperboard and their customers.
We delivered a clean design and a modern user interface. The results have been extremely positive and Republic Paperboard is very pleased with the Drupal development.
If you are interested in revamping your brand's website, contact us today. We have a team of strategists, designers, and developers ready to help move your brand forward.