Just a few weeks ago, we talked about how Pinterest (the third-largest social network in the world based on referral traffic and daily active users) could be a valuable marketing tool. At the time of our last post, Pinterest still had not confirmed rumors that they would be rolling out a "buy" button. But the social giant has finally announced that "Buyable Pins" will be available within the month on iPhones and iPads.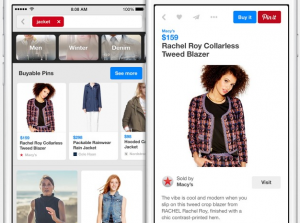 Pinterest has long been considered potentially the most ecommerce-friendly social network thanks to Pinners' strong purchase intent, but the company has taken its time to develop a solution that would be beneficial for both users and retailers. Since 80% of Pinterest activity is on mobile devices, Buyable Pins were designed for people to use on the go. "Buyable Pins work so seamlessly on mobile, they'll help you close the sale right when someone has the impulse to buy," wrote Pinterest on their blog.
iOS users will soon start to see Buyable Pins alongside the normal red pins. Buyable Pins will feature a blue price, which indicates the item can be purchased in-app. Pinterest will also feature a price filter to help users find exactly what they are looking for. Users will be able to pay with ApplePay and credit cards (through third-party payment services Stripe and Braintree), and merchants will still get to handle shipping and customer service themselves.
Pinterest will not take a cut of the sale, and the purchase price of products will be the same as on the retailers' ecommerce sites. The hope is that businesses will buy Promoted Pins / Buyable Pins to make them visible and accessible in home feeds and search results.
According to Pinterest, there will be more than 2 million Buyable Pins at launch. The pins will be supplied by large retailers (such as Macy's), as well as ecommerce platforms including Shopify, which has introduced a new Pinterest sales channel that features a quick and easy on-boarding process. Those Shopify users who sign up soon may have access to buyable pins at launch.
Curious to see how Pinterest could work for your ecommerce site? Contact Starkmedia today.