If you've been looking for a platform that will simplify how you communicate with your employees and vendors, developing an intranet and extranet may be the answer for you. Intranets and extranets are key in helping your employees do their jobs efficiently and effectively. Starkmedia has been designing and developing intranets and extranets in a variety of platforms for years, and we're here to help you better understand how they work.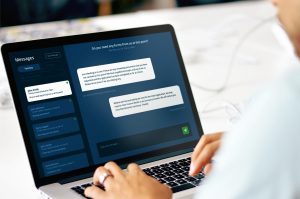 Intranets act as a collaboration platform and private online portal for colleagues within an organization to share information and files securely. For businesses, they are useful tools for coworkers to connect and collaborate and keep internal matters confidential. Intranets are complex portals that are customized to your organization and can be integrated with other platforms. With an intranet, you can allow your employees to access information, share internal communications, manage workflows, and more. 
Extranets are similar to intranets, but they are portals that are set up by a business to give controlled access to any external users that you authorize. They can be used to allow people outside of your organization to securely access and share confidential data and knowledge. With an extranet, your business can work together and share information with third parties in a secure environment. Extranets are useful for businesses that are looking for a secure collaboration tool to use with customers, vendors, and partners. 
With intranets and extranets, you can control what each user has access to, thanks to user permission settings. Intranets and extranets can be leveraged to improve employee experience and also customer experience. By creating a way for users to privately transfer data and confidentially share knowledge, you will save time, eliminate back and forth emails, and provide an efficient tool for collaboration. 
At Starkmedia, we have the knowledge and expertise required to develop intranets and extranets for your organization. With years of experience, our team is well versed in designing and developing intranets and extranets on many platforms, including custom development.    
Contact Starkmedia if you are interested in developing an intranet and extranet for your organization. We're happy to answer your questions and help you get started today.