Affiliate marketing is a widely used marketing strategy that gives incentive for influencers to tap into their own networks to market your products or services and drive your sales. At its core, affiliate marketing is about the relationship between three parties: the advertiser (your business), the publisher (affiliate), and the consumer.
How it Works
Affiliates promote an advertiser's product or service in exchange for earning a commission. Advertisers provide the publisher with creative content – in the form of links, banner or text ads – that the publisher incorporates into their website.

The consumer sees the ad and then completes an action (either by clicking a link or by submitting their information through a form) that takes them from the affiliate's website to the advertiser's to complete the conversion.
Benefits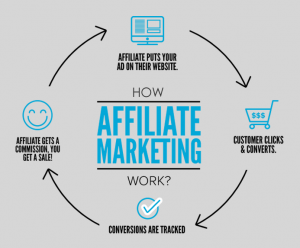 There are many benefits that make affiliate marketing programs worth the time and effort they take to run. A well-managed affiliate program:
Drives new customer traffic.

Creates backlinks from publishers with domain authority.

Increase brand recognition.

Minimizes spend through a "pay for performance" strategy.

Increases sales.
Keys to Success
When launching an affiliate program, it is important to be prepared. Follow these tips to set your program up for success:
Secure the manpower.

Because running an affiliate program can be time-consuming, many businesses assign or hire a dedicated program manager.

Be Picky. Don't auto approve requests.

Typically the top 5% of your affiliates earn 90+% of commissions, so the quality of affiliates is much more important than quantity.

Choose affiliates with relevant content.

Make sure your affiliates have already captured the attention of your target demographic.

Evaluate reach.

Consider the affiliate's audience size as well as the channels they use to reach them.

Look for integrity in your affiliates.

Remember that all affiliates are essentially ambassadors for your brand. Be sure that your affiliate will not overpromise or misrepresent your products or services.

Access a network of publishers.

It allows website publishers to easily find and participate in affiliate programs that are suitable for their website. These networks , such as Commission Junction or Share-a-Sale help reach a larger audience .
Think an affiliate program could benefit your business? Contact Starkmedia and we can help you get started.