Movie Tavern is a cinema eatery that was owned by New Orleans-based VSS-Southern Theatres, LLC. The leading private equity firm as well as a leader in the cinema eatery segment with 24 theatres in 10 states and is a blossoming bistro with a lot of content to manage.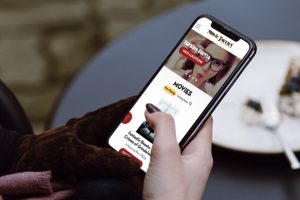 Starkmedia was engaged to move the Movie Tavern brand onto a web platform that can work harmoniously with the fast-paced, ever-changing content that they manage on a daily basis. From movie showtimes and menu items to promotions and location-specific events, Movie Tavern needed a platform that was flexible and scalable which is why we chose the Drupal Content Management System (CMS).
Site features include:
Drupal CMS

Responsive Web Design

Vista Cinema Integration for Showtimes and Ticketing

Geolocation to Deliver Location-Specific Content
In addition to the Drupal CMS, Starkmedia improved the showtime and ticketing functionality by integrating with a third party platform called Vista Cinema. The flexibility of Drupal allowed our team to integrate with the Vista Cinema platform to display showtime and ticketing information in sync with their onsite and mobile application inventory.  Specifically, we connected their website to the features of Vista in order to provide real-time results that can be displayed live on the site. This way, customers and employees can better direct their actions by utilizing the speed and efficiency that the integration provides.
Furthermore, the website content was also configured to represent marketing materials that were specific to the geographical location nearest to the customer. With over 24 theatres, there is lots of opportunity for target audience variability to be utilized. The easy-to-use, visual interface helps staff to sell and print tickets in just two simple clicks. This configurable software was a great choice for this website and helped provide a simple, functional solution for managing their sales.
By replatforming to the Drupal content management system, our team was able to deliver an improved authoring experience to manage and deliver location-specific movie, showtime, and menu details. An updated responsive design delivers a best-in-class user experience to a largely mobile audience. Drupal streamlined their team's ability to manage menu and event information as it pertained to each location, enabling a personalized experience based on a visitor's detected location and nearest theater.
Starkmedia is thrilled with the new website for Movie Tavern as well as working with their teams to maximize its brand potential.
If you are interested in improving your online presence, contact us at Starkmedia today! We have a team of professional programmers and designers ready to help move your brand forward!