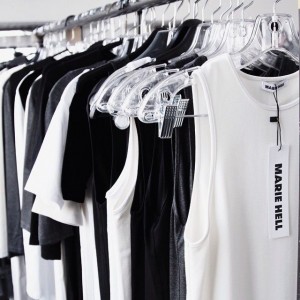 This week, Starkmedia client, Marie Hell, unveiled a brand new website in conjunction with the official launch of their designer fashion line. The line, named for the designer's grandmother, is a beautifully executed collection of timeless staples for every wardrobe. Starkmedia has spent the last 6 months working intensively with the Marie Hell team to create a digital presence for the brand that is consistent across all major channels.
"We were thrilled to work with Marie Hell to launch this project because it gave our team an opportunity to activate the full breadth of our expertise," said Jeff Acton, Account Executive. "Marie Hell is a study in stunning simplicity – the garments are elegant and effortless. So we knew it was important to create a web presence and user experience that echoed that perfectly."
Through a competitive assessment and using industry best practices, Starkmedia was able to deploy a Magento system within the existing framework of the site, creating an ecommerce interface that functions seamlessly. In addition to implementing the ecommerce platform, the Starkmedia team provided site designs, development services, content strategy, social media strategy and management.
"I have really appreciated the close working relationship we have had with Starkmedia," said Eileen Mandel, creator of Marie Hell. "They have been very flexible. Throughout the whole process, they really listened to my ideas and concerns, and we have worked through all of them together. They always come through and get the work done right."
"Together, we've made a great site," said Acton. "We are excited to continue this engagement with Marie Hell as we work to optimize the site. Through insights and reporting, we will be able to measure the success of the work completed, and identify new opportunities to help the brand grow and flourish.