As marketers, we dedicate a lot of time and resources to getting people to our site (organic search, paid search, display ads, etc.). However, even websites with great visibility across multiple channels may be losing out on conversions due to weak internal site search.  According to a recent study, over 30% of ecommerce visitors will use internal site search.  Because they have increased purchase intent, they tend to convert at a rate that is 5-6 times higher than the average site visitor.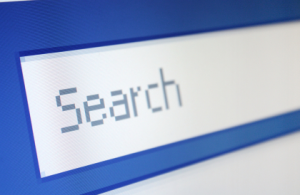 The objective of internal search is to quickly enable the user to find what they are looking for inside an application or database. Sites with effective internal site search can also analyze user-generated queries to provide valuable insight about what visitors hope to find within the website.
Google recommends using these insights to improve conversion rates by:
Mining for keywords. The report shows you exactly what users typed into your custom search box, so you can see what users are looking for on your site in their own words. It's likely that users use the same or similar terms in search engines, so including site search terms as keywords in your paid campaigns may help you target your ads to the most receptive audience.
Optimizing landing pages that also appear as top search pages. Customers may use site search on a landing page if the content on the page doesn't meet their expectations set by your ad. Designating a more specific landing page or revising your ad text can improve retention.
Despite how beneficial internal site search is for increasing conversions, a study by the Baymard Institute revealed that of the 50 top-grossing US ecommerce websites, 34% do not support users' searches by product name, 60% don't support searches with symbols and abbreviations, and 92% have only one breadcrumb type or no breadcrumb at all. Simply put, ecommerce retailers are not prioritizing one of their most valuable sales tools.
Starkmedia has helped numerous clients optimize their internal site search. While there are a number of search solutions on the market, the following are our top 3 :
Endeca: This enterprise search platform is ideal for indexing and displaying large amounts of information and is an industry-leading provider in faceted navigation. Our integrations have delivered robust search results and guided navigational elements perfect for product data, ecommerce attributes, and content indexed from multiple domains.
Apache Solr: A standalone, open source search provider that performs at an enterprise level but without the expense. Solr is scalable and configurable in implementation and the open source community means plugins and extensions for platforms such as Magento and Drupal and are readily available and supported.
Google Site Search: Formerly Google Custom Search Business Edition, Google Site Search is an edition of Google Custom Search specifically designed for businesses looking to create a highly customized and Google-hosted site search solution. Google offers a tiered pricing model based on search queries/year.
Getting visitors to your site is only half the battle. If you'd like to find out more about how effective your internal search is, contact Starkmedia.