Instagram Stories have become an increasingly popular avenue to share content on social media. Since Snapchat released the idea of Snapchat Stories in 2013, many other social platforms have adopted the concept and have seen great results with their audience engagement. Businesses across the platform have tapped into Instagram's resources and found some great ways to market their business through Instagram Stories.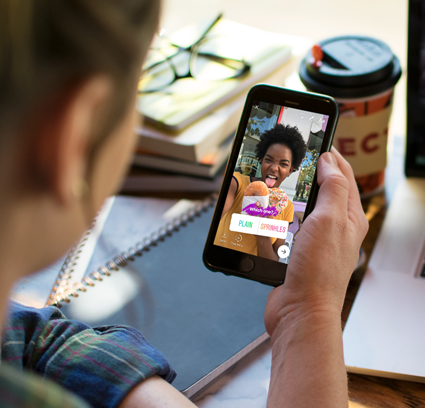 The Instagram Story itself is a short, ephemeral video or image slideshow – directly from the user's device – that can be uploaded to Instagram and cannot be viewed after 24 hours have elapsed. What makes content on an Instagram Story different from the rest of a user's account is that the Instagram Story content will appear right at the top of your follower's feed for the entirety of the 24 hours. This distinction makes the content within an Instagram story much more exclusive in that regard.
For businesses,  Instagram Stories can have a wide array of positive effects on your brand and following. Many of the business features offer fun and engaging ways to connect with your customers and increase conversions by integrating them into your Instagram Stories. Some of these business features include:
Adding Locations to show where you are conducting business

Adding Mentions to tag other brands or people you are affiliated with

Incorporating 'clickable' hashtags directly into the story for improved searchability

Integrating Links to your business or company profile

Utilizing Sponsored Content to broaden your audience base and earn extra revenue

Using the "Questions" sticker to receive live customer feedback on your business and activities
Even though it may seem trivial to create something that disappears after a day, many businesses have achieved great successes by using the marketing power of Instagram Stories. Aside from increasing your online presence, Instagram stories offer many other notable benefits such as:
Create more engaging content for audiences

Increase brand loyalty and authenticity with a 'behind the scenes' feel

Connect with viewers 1:1

Utilize a powerful platform to communicate to an expanding audience (IGTV)

Post on Facebook and Instagram instantaneously

LIVE content engages followers
Some of the best features of Instagram stories create unique ways to interact with your audiences as a business. While your visual content is compelling to look at and connect with your viewers, Instagram has incorporated different ways to engage with them such as Polls and IGTV.
Polls are a great way to grab your audience's attention by allowing them to directly give you their input on any given topic. Once a photo or video is uploaded to your Instagram Story, you have the option to add and customize a  "poll sticker" within the Story – usually with only two choices. When viewers provide their input, they feel a sense of connection and contribution to the topic and to your brand. These polls are simple and effective ways of harvesting customer insights and adapting marketing goals in real time.
Instagram Television, or IGTV, is a video channel within the Instagram app that allows businesses to essentially create their very own television show. Videos can be longer and more elaborate to dive deeper into the content being displayed or discussed. Similar to tuning into regular TV, IGTV starts playing immediately while also allowing you to 'flip through' channels that you already follow. In addition, you can watch suggested channels from  others you might like based on your interests by switching between "For You," "Following," "Popular" and "Continue Watching."
These components of Instagram Stories has provided a very useful set of marketing tools that can attract a wider audience for your business. To learn more about how Starkmedia can help you connect with more viewers through Instagram Stories, contact us today!