Starkmedia is proud to partner with Systems LLC, a leading manufacturer of loading dock equipment for over 60 years with facilities in Wisconsin and Arkansas. Our team was engaged to design and develop websites for five of their affiliate and divisional brands on the Drupal 9 platform.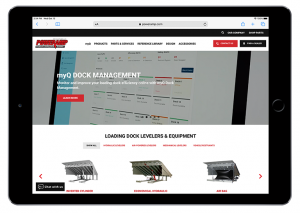 We recently launched the first of these replatformed websites for the Poweramp brand. Our design team utilized short video and interactive animation throughout to focus attention on the industry-leading technology behind their loading dock levelers. A product comparison tool helps guide customers to the correct features, specifications, and equipment they need. A reference library of sales and service documents is integrated throughout the product catalog and resource content to support the technical needs of their customers, while enabling efficient management of data and documents for their content marketers on the back end. An interactive dealer locator directs customers to the nearest representative/location and a dynamic lead form captures information to route and follow-up with interested contacts.
Please visit poweramp.com to see how Starkmedia can level up your business and contact us today. Our team of strategists, designers, and developers are ready to help move your brand forward.