Starkmedia is proud to announce the launch of the new website for the Collins Family Law Group. Collins Family Law is a family law practice with seven locations in North and South Carolina. Collins Family Law has experience in all areas of family law, including adoption, divorce, child support, and more.
Collins Family Law partnered with Starkmedia to give their website a complete redesign that refreshes and better reflects their brand's image. The website was created using the WordPress CMS platform which was selected because of the flexibility it offers with the new block-based Gutenberg editor. WordPress 5.0 gives Collins Family Law the ability to easily make changes to their content whenever they please.
Our team focused on rebranding the Collins Family Law website by visually telling the story of the firm using their dynamic videography and photography. The redesign emphasizes and features the attorneys in an effort to personalize the firm. The content on the site has interactive elements such as videos and testimonials to showcase all of their services.
The information architecture for this website was created to streamline user experience. Simplified top-level navigation also allows for calls to action to be prominent. The new navigation is designed to help the user find what they are looking for right away.
Short contact forms, persistent CTAs and phone number display throughout the site prompt users to contact Collins Family Law for a consultation. Other features include location landing pages that were created to assist in local search rankings. The site was also integrated with a blog to further tell the story of the Collins Family Law Group.
Overall, the new website more accurately represents the Collins Family Law Group brand and tells their story more fully through a variety of reimagined and improved features. Starkmedia is thrilled to present the new website for Collins Family Law!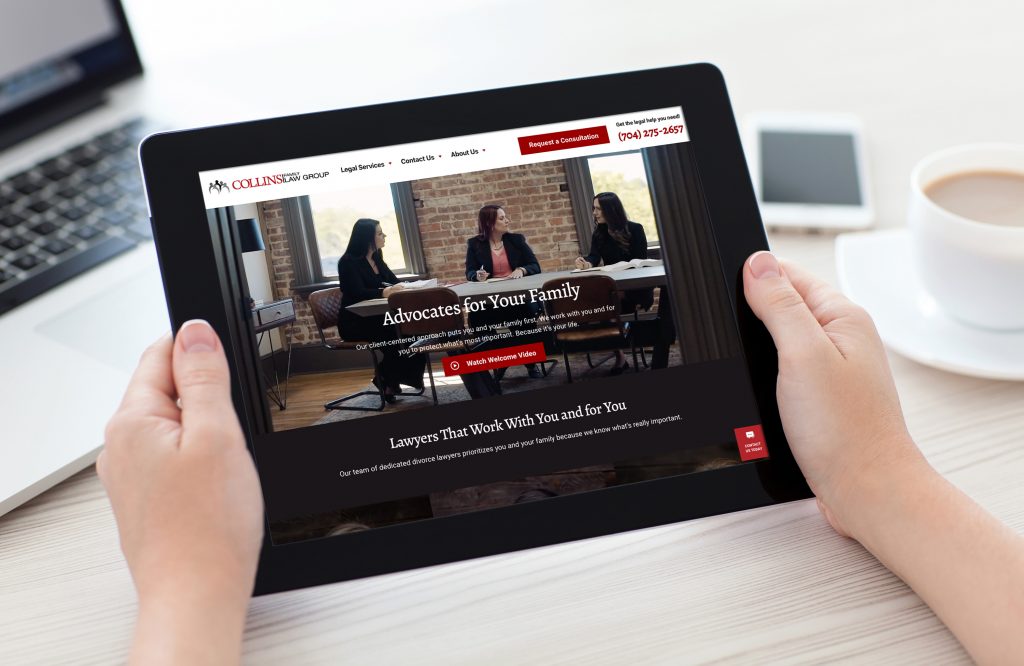 collinsfamilylaw.com
If you are interested in refreshing your brand's website, contact us today. We have a team of professional programmers and designers ready to help move your brand forward.