NetSuite
An ERP software that grows with you
NetSuite
NetSuite is a cloud-based ERP software that is highly customizable and has a vast array of features. With built-in flexibility, NetSuite grows with your business. The platform comes with real-time analytics that provide reports, insights, profit, and more to help your business know how you're doing and how you can improve. 
Thanks to NetSuite, the world's #1 cloud ERP, you'll gain access to features like financial management and planning, supply chain management, warehouse and fulfillment, and more. NetSuite's features are designed to streamline your business processes with built-in data and visual analytics that support your growth every step of the way. With NetSuite CRM, you can increase your company's productivity, improve sales performance through forecasting, and manage your global sales. NetSuite also offers solutions for Human Resources management, email marketing, and customer service management. Designed for growth, NetSuite is a business management solution that is scalable, reliable, and comes with easy upgrades.
NetSuite Customer Service Management
NetSuite customer service management (CSM) capabilities provide a complete view of customer information for improved satisfaction and lower service costs. NetSuite's unified cloud solution gives everyone who works with customers — sales, support, service, fulfillment — access to customer information that's updated in real time. Additional benefits include: 
Boost Customer Satisfaction. Support teams can access customer information anytime, anywhere to drive customer satisfaction and retention.
Reduce Costs with Effective Self-Service. Deliver a high-quality, high-touch experience for clients while reducing the cost of customer care.
Increase Efficiency and Productivity. Accelerate case resolution time by assigning cases appropriately and providing support reps with complete visibility into customer data.
Drive Incremental Revenue. Empower sales, service and support reps to upsell and cross-sell better with complete access to cross-functional customer insights.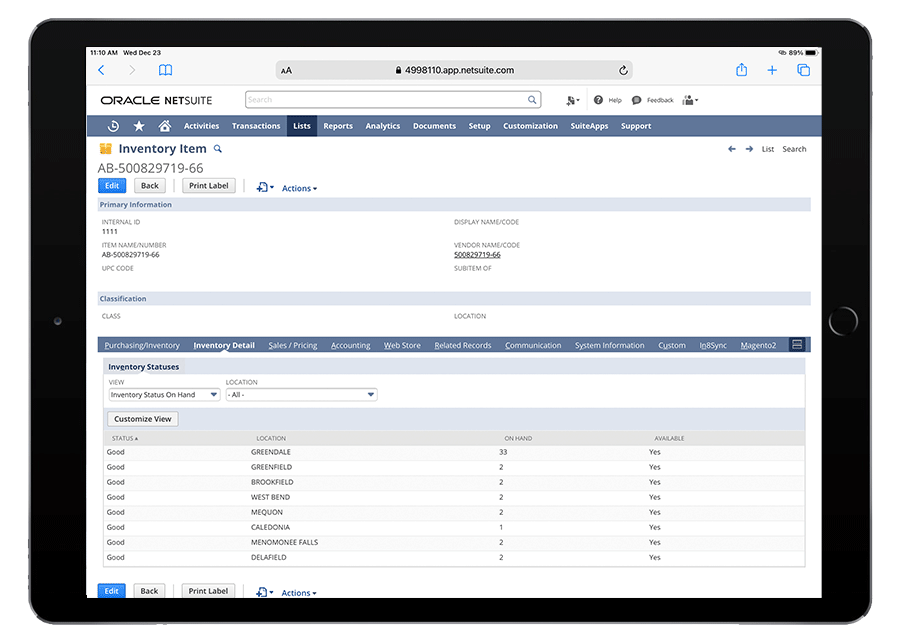 Key NetSuite Components and Features include:
Enterprise Resource Planning (ERP)

Financial Management & Accounting

E-commerce
Customer Relationship Management (CRM)

Inventory & Relationship Management
Get Started
Complete the form below or call us at 414-226-2710. *required