Hootsuite
A global leader in social media management
Hootsuite
Elevate your social media game with Hootsuite, the ultimate platform that seamlessly combines all your social media channels into one cohesive hub. This powerful tool empowers you to schedule and manage cross-channel campaigns effortlessly, all within a unified calendar, providing you with a comprehensive overview of your social media strategy's success. Hootsuite integrates with over 20 social media platforms, including Facebook, Twitter, LinkedIn, YouTube, and Pinterest, ensuring that your campaigns have a broad reach.
But Hootsuite goes beyond campaign management—it's a versatile solution for social media managers. Monitor your company's social media channels and analytics with ease. The platform's inbox gathers direct messages in one centralized location, allowing you to assign team members to each message, ensuring no customer query goes unanswered. Keep your customer service team in direct contact with your audience, fostering customer loyalty and satisfaction.
With Hootsuite's robust insights and analytics, stay informed about what's being said about your brand and competitors. These data-driven insights empower you to make informed decisions, ensuring that your social media strategy is not only effective but tailored to the ever-evolving landscape of digital conversations.
Ready to streamline your social media management and drive meaningful engagement? Contact Starkmedia today, and let us guide you through the transformative journey of optimizing your social media presence.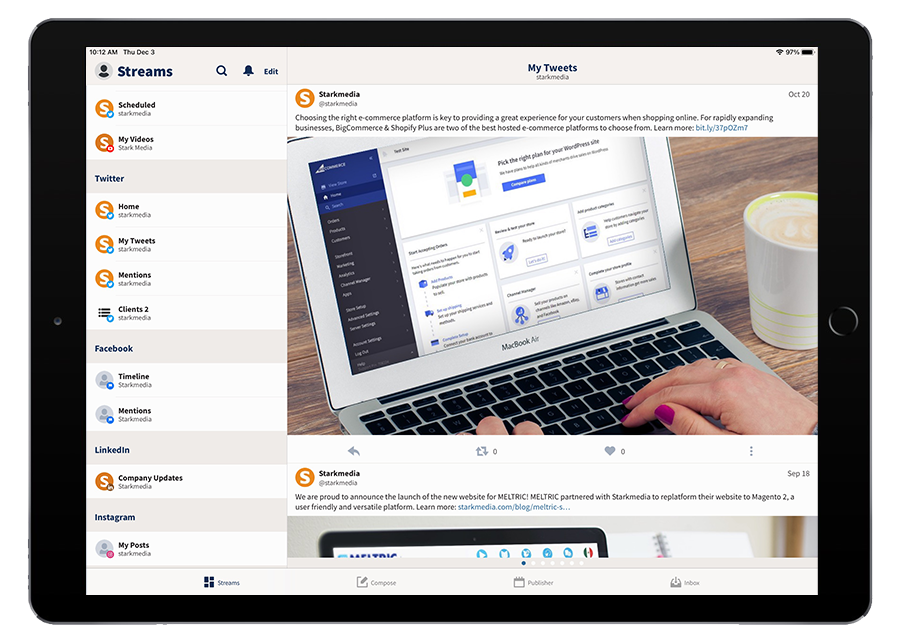 Key Hootsuite Components and Features include:
Apps and Integrations

Advertise 

Engage
Get Started
Complete the form below or call us at 414-226-2710. *required