Paid Search Management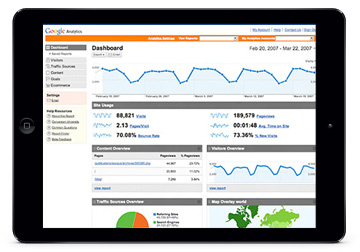 An effective paid search campaign enables your marketing message to target only the people who are actively looking online for the products and services your business offers. Pay-per-click (PPC) advertising provides the opportunity to send qualified traffic to specific pages within your website and the flexibility to geo–target your ads anywhere in the world. This targeting reduces costs of traditional advertising vehicles, pre-qualifying and tracking the path of prospects through to conversion.
The digital marketing team at Starkmedia has expertise in management and strategic consulting with various paid search campaign initiatives including Google AdWords and Remarketing, Yahoo, Bing adCenter, as well as their respective content networks. Our team of marketing professionals can assist or directly manage campaign setup, keyword research, landing page development or optimization, and on-going analytics insights and reporting to validate effectiveness and ROI of each campaign.
Pay-Per-Click Management
Properly setting up a PPC campaign is the most critical component of PPC efficiency. Starkmedia works to make every dollar of your marketing budget work for you through keyword research, segmenting keywords, landing pages and ad copy that ensure the lowest cost per click rates, maximum conversion rates that ensure the best return on investment. Using proven strategies to constantly improve the success of the campaign, we manually monitor keyword bids, average ad position, click-through and conversion rates, and conduct A/B and multivariate test ads and landing page content to guarantee the campaign is as successful as possible.
Remarketing
Remarketing enables you to show targeted advertisements to prospective customers who have previously visited your website, following them past their site visit and throughout their browsing session. This vehicle allows the display of highly relevant messages across the Google Display Network.
Search Engine Optimization
Our optimization efforts focus on crafting user-friendly search engine results snippets and implementing the appropriate internal and external search engine best practices. An initial site audit evaluates your current site's technical composition and identifies the areas that require improvement. Based on the audit's findings our SEO and development team execute the necessary steps to fully optimize your website's search engine performance.
Analytics Insights and Reporting
Performance reports on individual keywords and on a campaign level provide success metrics on an on-going basis. PPC reports are emailed and reviewed with you monthly, analyzing key metrics such as clicks, CTR (Click through rate), cost, CPC (cost per click), average position, conversions, conversion rate, and cost/conversion.
Capabilities
Paid Search Management
Remarketing Campaign Management
Search Engine Optimization
Analytics Insights and Reporting
Technologies
Google AdWords
Google Remarketing
Ready to learn how we can help your business?
Please let us know what you are interested in and we will be in touch.
We employ only the industry's leading technologies. Learn more